I participated in Simon Van Booy's Winter Writing Workshop at Wellspring House, where I was spoiled for six days in the luxury of a magical home, with excellent company, and the best food I've ever been served.  My mind is still spinning with the richness of it all. This is the first in a series of posts about an exceptional experience.  I'll share about Wellspring House, Simon as a teacher and model learner, learning and living with other writers, defending Emily Dickinson, the workshop process, and how I'm now applying what I've learned.
Down a winding wooded road, past scrubbed-white steeples and a covered bridge, I found the sleepy town of Ashfield, Massachusetts.  The Wellspring House drive is lined with spindly trees constricted by vines, bound together in a striking dance of unexpected survival.  Though I came without expectations, I trembled with anticipation.
I was greeted by Simon, ever the generous host, who carried my luggage and gave me a tour and let me choose my room.  I selected Thoreau, a simple space with a single bed and windows from wall to wall.  On the main floor, he introduced me to  Dr. Preston Browning, a retired professor who stokes the embers of inspiration at Wellspring House.
Preston was crafting kindling of newspaper rolls.  He leaned against the wall of stone and graciously paused to entertain my questions.  He shared the story of Ann, his beautiful bride, who discovered the home in conditions beyond repair and had a vision of wonder.  In rotting wood and near collapse, Ann saw a fountain of inspiration for writers
He trusted her instincts, and they rushed to secure the property, though they learned the haste was unnecessary.  The locals were surprised at their interest in the place.  Ann and Preston hired contractors in the winter, and the team moved rapidly to build and repair and restore the original beauty and charm.  The home is a character, a muse for all who enter.
Wellspring House was originally a carriage house, with a pass-through for horses and carriages, and sleeping space for the drivers. It later became quarters for the staff of the estate on the hill.  At times it has been abandoned, and once was inhabited by a man who kept his cattle in the living room.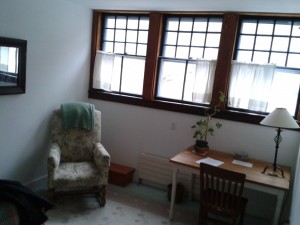 The bedrooms are as unique as the authors for whom they are named.  In each room you'll find a journal lush with wandering thoughts and revelations from visiting writers, a time capsule of those who've gone before. There are two shared bathrooms upstairs, but even with five of us in residence (four women!), we never got in each other's way. The kitchen is available for those who wish to cook, and it's a quick walk to Elmer's for coffee and meals. The books you need for your work seem to materialize right when you need them. (And the wi-fi is fast and reliable.)
The shelves in the shared areas of the home are lined with books, and stacks of them adorn every surface.  Between the pages are notes and messages; Ann and Preston's musings through vast dimensions. Preston humbly credits Ann for all the magic, and tells the tales of her loving efforts to design a space that nurtures the creative soul.  His grief at the recent loss of his beloved is a character itself; a struggling presence of will, with waxing and waning strength.
Wellspring House is a fortification designed to defend against heartache and despair.  Every object in the home is endowed with the spirit of purpose and intent.  Each piece of art, every book, the textures and finishes, the sun-seeking windows, and fire-warmed hearth retains the whispers of all who've entered this sanctuary.  A coffee table centered with nine stacks of books is the altar of shared existence.  If you place an item there, you instantly feel relieved of the burden of ownership.  Surrender to the history of us.
I spoke with Dr. Browning on my final afternoon, and expressed my love for his home, and my plans to share it with my educator friends.  He couldn't contain his excitement at the thought of visiting scholars.  With humility and conviction, he again credited Ann.  He claimed her presence is what makes the place so rare.  I shook my head in protest, and said, 'No, Preston. It's not Ann's presence, it's the presence of your relationship, and all the relationships here.' He tilted his head and his eyes shined a curious brightness. I sensed his eagerness to explore a new idea.  He left me with the sweetest kiss, and returned to his rooms to write.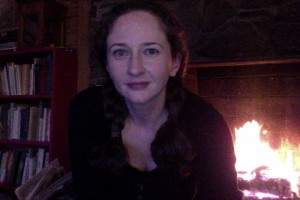 Notes: 'History of Us,' is one of my favorite Indigo Girls songs. You can listen at http://youtu.be/h2Xw5DRR2-s
If you're seeking inspiration, or need to nurture your spirit, there's no place I'd recommend more highly. Dr. Browning is offering special Winter rates right now, and you can get the information directly from the site.  He is also seeking an assistant in residence, willing to commit to a few years, to help with the business side, assist in technology and web promotion, and greet and welcome the writers in residence, so he can have more time to write. If you're interested in the assistant opportunity, email jen at jentropy dot com and I'll send you the description. It might be a few months before he's ready to put effort into filling the position, but I don't think an advance email message to him would hurt.
You can learn more about Ann and Preston at http://www.wellspringhouse.net/about